Morris Brodie, Digital Intern at Aberystwyth University
Earlier this week, as part of the Second World War and Holocaust Partnership Programme (SWWHPP), we held our first co-curation event with local refugees and volunteers. For our project, 'Refugees from National Socialism in Wales: Learning from the Past for the Future', we are co-creating a film and an exhibition, to be held at the Aberystwyth Arts Centre in Autumn 2022.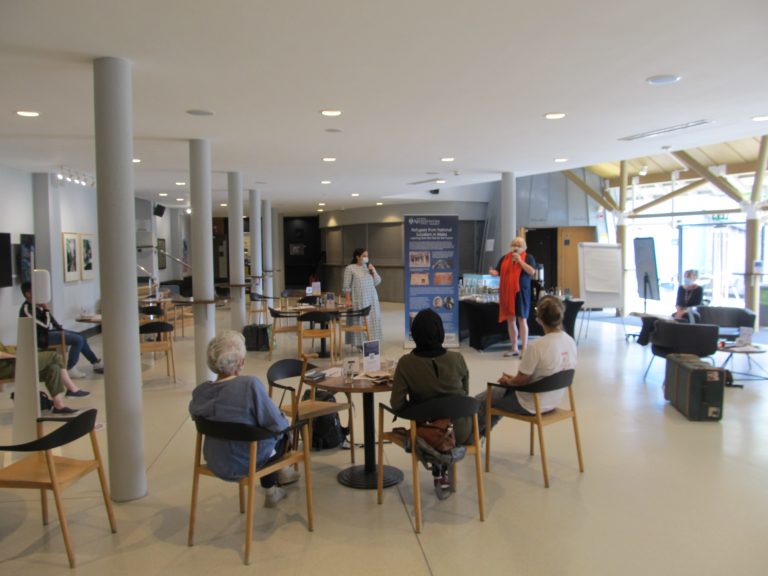 Co-curation is becoming an increasingly popular way for museums to create content. Simply put, co-curation involves ordinary people in the making of anything that museums/cultural institutions produce, whether that be object interpretation, displays, exhibitions or artwork. This can be through individuals, schools, community groups or other organisations. It can be anything from supplying old family photographs and recording oral history interviews to the physical planning of a display case or even an entire exhibition.
From the museum's point of view, co-curation can help reach new audiences, promote a shared sense of ownership, and solidify an institution's role as an agent of change. For contributors, co-curation allows for a more participatory museum, moving beyond their role as passive consumers to develop new skills, build confidence and have some fun in the process. Co-curation provides a place for community engagement but is intended to be so much more: it should be a two-way process, not simply the museum telling participants what they expect to include. According to SHARE Museums East, co-curation "develops the notion of the 'democratic museum', where the museum is conceived as a space for debate (the 'forum' rather than the 'temple')".
For our project, we want to raise awareness of refugees and the issues they face in Wales, both historically and in the present. At our event, which was held in the Aberystwyth Arts Centre, we welcomed a range of current refugees, academics and volunteers to discuss their ideas on the content of our film and exhibition.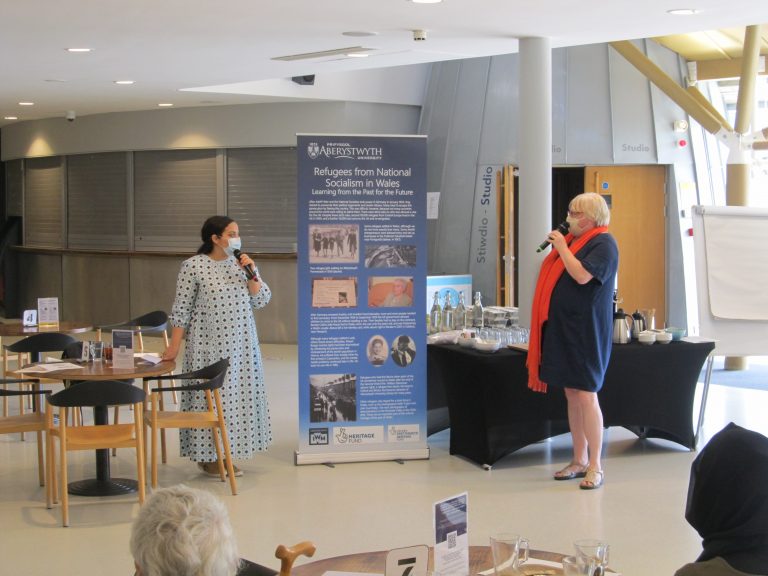 The event began with Andrea Hammel giving a brief talk on the history of refugees from National Socialism in Wales, with the help of Hala, who translated into Arabic. Participants were interested to hear the background to the project, and some of the continuities between historical and contemporary refugees. Most refugees present were from Syria, who fled from the current conflict in the country to Aberystwyth and the surrounding areas and founded a thriving local community. Catering was provided by three local businesses started by refugees: the Syrian Dinner Project, Arabic Flavour and Fatima's Kitchen, which were all delicious (we will definitely be purchasing their services again!)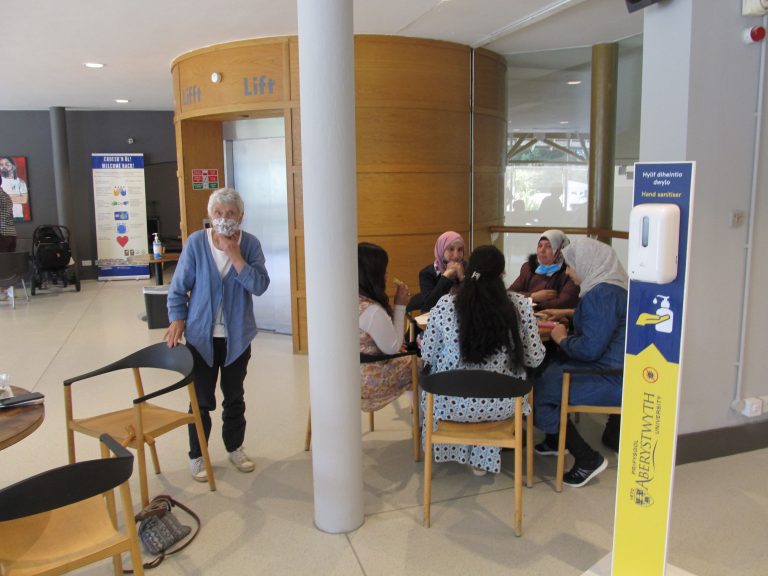 We then broke out into smaller groups to discuss ideas and were amazed by the variety and quality of people's vision for the exhibition and film. Many people suggested exploring refugees' experiences through culture, including food and music. Others offered to create poetry, artwork and provide photographs. Many refugees were keen to combat the negative stigma that sometimes surrounds refugees by showcasing their positive contribution to the local economy and culture. We were delighted to have such an enthusiastic response from our potential co-curators. We certainly have an excellent base on which to build for our project, and can't wait to get stuck in!
If you missed the event but would like to contribute to the project, please feel free to email us on a.hammel@aber.ac.uk or mob28@aber.ac.uk
You can follow the Syrian Dinner Project on Instagram https://www.instagram.com/syrian.dinner/ Facebook https://www.facebook.com/Syriandinner and Twitter https://twitter.com/Latifa45851953 Email: syriandinner.uk@gmail.com Telephone: 07488 554 220
You can follow Arabic Flavour on Instagram https://www.instagram.com/arabic.flavour/ Facebook https://www.facebook.com/Arabicflavour.uk and their website https://arabicflavour.co.uk/ Email: arabicflavour.uk@gmail.com Telephone: 07480 320 688
You can order from Fatima's Kitchen by messaging or calling 07988 842 230