Heinz Koppel was born in Berlin in 1919. His parents, Joachim and Paula, were Jewish. They divorced and Joachim remarried. After the Nazi takeover, the family (including Heinz's mother) moved to Prague, where Heinz trained as an artist. In 1938, Heinz fled to Britain with his father, stepmother, brothers and sister, but his mother, who suffered from severe arthritis, was unable to make the journey. Trapped in Nazi-occupied Czechoslovakia, she was sent to Theresienstadt and ultimately murdered at Treblinka in Poland.
Joachim founded a zip-manufacturing company at Treforest Trading Estate. This was requisitioned to create aircraft components for the Ministry of Aircraft Production during the Second World War. Meanwhile, Heinz lived in London, studying art with the émigré painter Martin Bloch, who also taught Heinz's cousin, Harry Weinberger. In 1944, Heinz moved to Dowlais, near Merthyr Tydfil.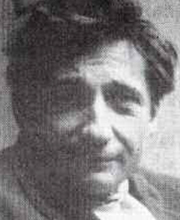 In Dowlais, Heinz gave art lessons, also painting the surrounding countryside and nearby industrial areas. He married fellow German-born artist Renate Fischl in 1949. Influenced by German Expressionism, Heinz's reputation grew, and he exhibited his work in the Modern Art Gallery in London alongside other refugees from Central and Eastern Europe.
He was one of the founding members of the 56 Group, which sought to revolutionise the cultural landscape of Wales, at that time dominated by London-based selection committees at the expense of local artists. The group organised its own exhibitions in Dublin, Washington DC, Amsterdam and elsewhere, to critical acclaim. Heinz left Wales to teach in England in 1956, but returned in 1974 to live in Cwmerfyn, near Aberystwyth. He continued to paint and experimented with other materials until his death in 1980, aged 61.
"Heinz was always far more interested than I in analysing work, and his always had a psychological slant...he was very introspective and very analytical about everything (not just his work), and he had very delicate hands and delicate fingers – and his work had the same delicacy, and I thought it was quite unique"
"We both felt that because of our background and everything that had happened that we were outsiders and that we couldn't somehow be accepted by the art establishment"
A retrospective exhibition of his work was held in Berlin at the Centrum Judaicum from 2009-10. Anna Canby Monk of the centre notes that "Just as Koppel's work was a boon to the postwar British art scene, here in Berlin one must recognise the great loss to the artistic life of the country that was brought about by his and other young artists' exodus."