For many Jewish refugees, religion played an important part in adjusting to their new country. Jewish children were often cared for by the local Jewish community. In January 1939, Reverend Joseph Weintrobe, the minister of the Swansea Hebrew Congregation and a member of the Swansea Jewry's Refugee Committee, visited Dovecourt reception camp in Essex. He selected twelve Jewish boys to move to Swansea, who were then cared for by members of the congregation. 
Swansea was also home to the Goat Street synagogue, which was built in 1859 and catered to an Orthodox Jewish congregation. German-born Kindertransportee Ellen Davis attended services there after being fostered by a local couple:
"Being a good Jewish family, we went to the synagogue on Saturday morning…to say our prayers…I felt at home hearing the prayers in Hebrew. It reminded me of Hoof [in Hesse, Germany] where going to the synagogue had been so much part of my life."
Ellen later joined the Jewish Youth Club, representing them on the Swansea Youth Council and making many lifelong friends in the process.
Other refugees also attended the synagogue at Goat Street. Erwin Kestenbaum, originally from Czechoslovakia, celebrated his bar mitzvah there in 1939. Tragically, the synagogue was destroyed during the Swansea Blitz in February 1941; three nights of terror in which at least 227 people were killed. A new synagogue was completed on Ffynone Street in 1955.
Being sent to live with an existing Jewish community was no guarantee of strict religious observance, however. The Central British Fund for German Jewry (CBF) became concerned when two boys who were being cared for by the Pontypridd Jewish community were asked to work on the Sabbath and religious festivals – in sharp contrast to their Orthodox upbringing.
In some cases, it was easier to send child refugees (particularly teenagers) to hostels, rather than individual homes. Cardiff established its own refugee hostel on Cathedral Road in May 1939, while Newport founded another in 1940 on Chepstow Road. They shut in 1943 and 1942, respectively, due to a shortage of funds and staff.
Religion was an important part of life at Gwrych Castle too. Children studied Hebrew, the Torah and Palestinography to prepare themselves for a life in 'Eretz Yisrael' (the land of Israel). One teacher noted that their aim was to "give the whole Hachscharah the atmosphere of a Jewish 'Home', and above all, to deepen the religious feeling, so that it should become a real and active force".
Arieh Handler, who helped to organise the hachshara there as well as others around the country, remembers convincing the CBF that Jewish children should be placed in Jewish communities: "I had to plead with them, I said to them it's not good enough that you send them to all sorts of non-Jewish places, they get lost."
Herman Rothman, a refugee at Gwrych Castle, remembers that "every member could read…fluent Hebrew and we conducted services, very lovely services…we also had discussion groups [in which] we talked about Zionism, we talked about religion, we talked about many many interesting subjects".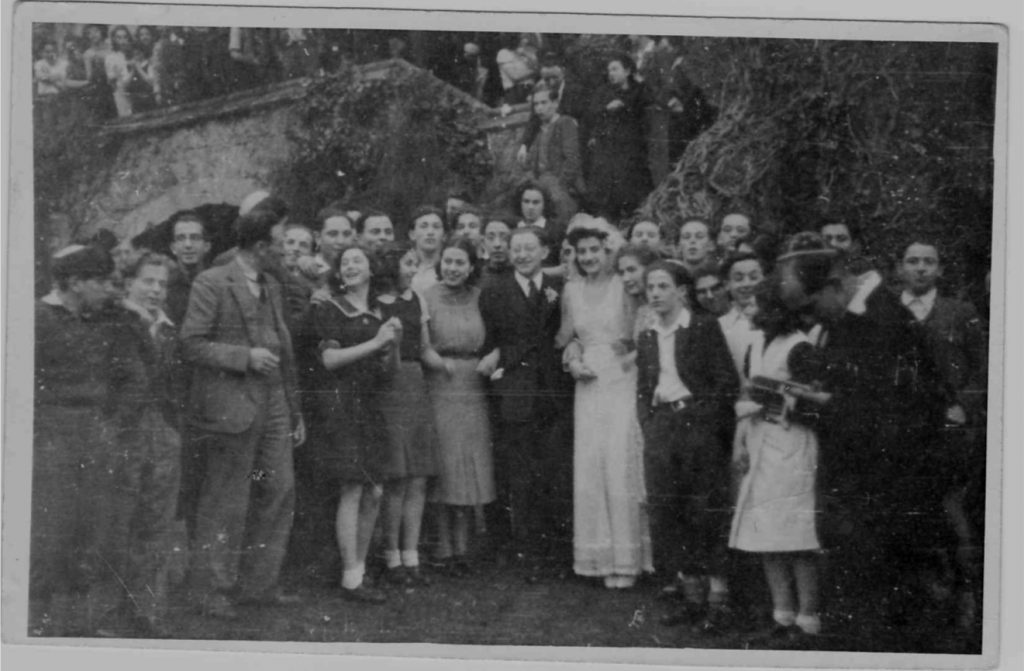 On occasion, there was a degree of tension between established Jewish communities and newly-arrived refugees. Most refugees in the 1930s came from a Central European Reform tradition, which contrasted with the Eastern European Orthodox immigrants of the late nineteenth century. Gaby Koppel remembers her mother, a refugee originally from Hungary, referring to "English Jews", and commented that they "are not like us". 
George Schoenmann, whose father set up a factory in Treforest Trading Estate, remembered that the resident Jewish population in Cardiff "weren't very helpful…my parents always gave me the impression that the ones who'd arrived earlier…They sort of resented the fact that the refugees came from, from Austria and Czechoslovakia."
The Anglo-Jewish community was vitally important to fundraising efforts in getting Jews out of Continental Europe, but when they arrived, there was often a sense of trying to minimise any embarrassment the new arrivals might cause. A leaflet published by the German Jewish Aid Committee advised refugees:
"Refrain from speaking German in the streets and in public places such as restaurants. Talk halting English rather than fluent German – and do not talk in a loud voice. 
Do not make yourself conspicuous by speaking loudly, nor by your manner or dress. The Englishman greatly dislikes ostentation, loudness of dress or manner, or unconventionality of dress or manner. The Englishman attaches very great importance to modesty, under-statement in speech rather than over-statement, and quietness of dress and manner.
Above all, please realise that the Jewish Community is relying on you – on each and every one of you – to uphold in this country the highest Jewish qualities, to maintain dignity, and to help and serve others."
For many reasons, the established Jewish community did not want to draw attention to the arrival of Jews from Nazi-occupied Europe. 
"I know that to accommodate two German-speaking and deprived three-year-olds must have been a serious task. We were under-nourished and suffered from rickets…gradually, memories of Rosa [Susi's mother], the orphanage and friends left behind faded altogether."
Not all Jewish refugees were placed with Jewish families or communities. Many were fostered by Christians. This was a concern for Jewish religious leaders in Wales, who feared that the children might lose their sense of identity. Some families made no attempt to convert their foster children, but other refugees became thoroughly Christianised.
Susi Bechhofer and her twin sister Lotte were fostered by a Cardiff Baptist minister and his wife, who changed their names to Grace and Eunice, even telling the girls that they were their biological parents. They effectively erased the girls' Jewish heritage, and the minister also subjected Susi to sexual abuse. It was only in 1954 that Susi learned the truth about her family background, when she was taking an exam at school and was required to use her original name. She later found out that her father had been a German soldier and her mother was murdered in Auschwitz.  
Further reading
Jennifer Craig-Norton, The Kindertransport: Contesting memory (Bloomington, IN: Indiana University Press, 2019)
Ellen Davis, Kerry's Children: A Jewish Childhood in Nazi Germany and Growing up in South Wales (Bridgend: Seren, 2004)
Jenni Frazer, 'Susi Bechhofer: Finding her own history', Jewish Chronicle, 21 August 2017 (https://www.thejc.com/susi-bechhofer-1.443118)
German Jewish Aid Committee, While you are in England: Helpful Information and Guidance for Every Refugee, c. 1939 (Scottish Jewish Archives Centre, DMSC 9.30) (https://sjac-collection.is.ed.ac.uk/jlss/record/111324)
Martin Johnes, Wales since 1939 (Manchester: Manchester University Press, 2012)
Jeremy Josephs and Susi Bechhöfer, Rosa's Child: One Woman's Search for Her Past (Bloomsbury, 1996)
Cai Parry-Jones, The Jews of Wales: A History (Cardiff: University of Wales Press, 2017)
Erwin Seligmann, 'Our Cultural Work', Gwrych Castle Year Book 1939/40 (Wiener Holocaust Library, OSP3600)