From the moment Adolf Hitler and the National Socialists took power in Germany in January 1933, they started to persecute their political opponents and Jewish citizens. Many tried to escape this persecution by fleeing the country. This was difficult, however, because few countries around the world were willing to admit them. The United States, long perceived as a haven for those seeking sanctuary from abroad, enacted a series of restrictive immigration laws in the 1920s which discriminated against Jews as well as those from Eastern and Southern Europe. There were strict rules on who was allowed a visa for the UK. The Aliens Order of 1920 required foreigners to be able to demonstrate that they could support themselves before being allowed to enter, meaning many poorer refugees were refused entry. Visas were predominantly only granted to those refugees with the prospect of permanent immigration elsewhere. At the end of 1937, Britain hosted only 5,500 out of 154,000 refugees who had fled from Nazi Germany.
After Germany annexed Austria in March 1938, and occupied Czechoslovakia in March 1939, more and more people needed to find sanctuary. Sir Herbert Emerson, the League of Nations' High Commissioner for Refugees, estimated that from 1933 to September 1939, 400,000 refugees fled the Third Reich, including 225,000 Jews from Germany; 134,000 Jews from Austria and Bohemia-Moravia; and 40,000 non-Jews. A quarter of these refugees settled in areas later occupied by the Nazis. Despite the strict rules (after the Anschluss Britain introduced a new visa system for Austrians and Germans to try to restrict numbers further), around 78,000 refugees from Central Europe lived in the UK in 1939, and a further 12,000 had come to the UK and re-emigrated. Approximately 90% of these refugees were Jewish. Some refugees came to Wales, although we do not know the exact numbers.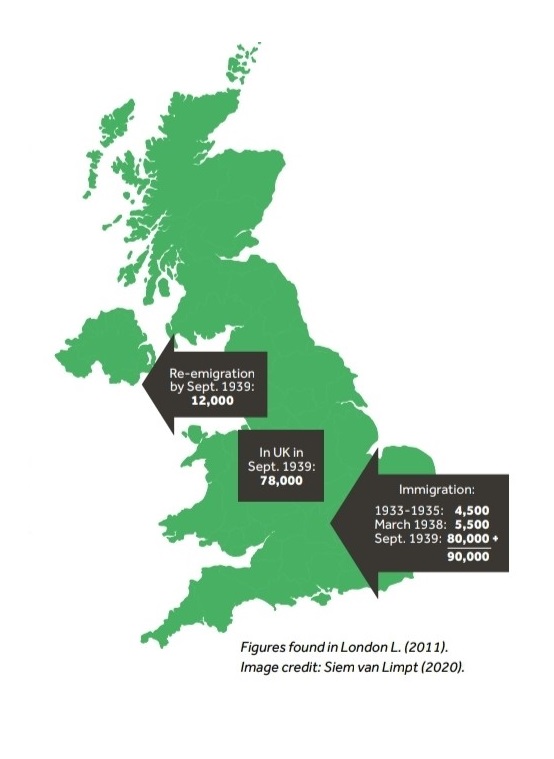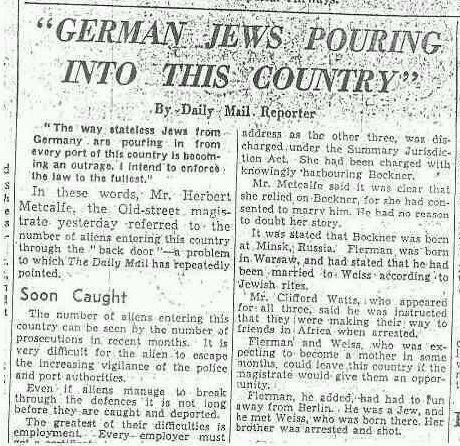 From December 1938 to September 1939 the UK government allowed children to come to the UK without needing a visa, but their families had to stay on the continent. These rescue efforts were later known as the Kindertransport (children's transport). In total, Britain provided sanctuary for around 10,000 children, predominantly of Jewish background, before the outbreak of the Second World War. In addition, the Central British Fund for German Jewry (which now operates under the name World Jewish Relief) set up a camp for poorer refugees at Sandwich in Kent in early 1939; some 4,000 refugees stayed at 'Kitchener's Camp' before it was closed a year later. 
Once the war began, emigration from the Third Reich became much more difficult. There were restrictions on leaving (the 'Reich Flight Tax', which was enacted before the war began, seized almost everything from potential Jewish refugees) and complications caused by the general chaos of the wartime situation. The British government was wary of accepting 'enemy aliens', regardless of their attitudes to National Socialism (with limited exceptions, visas granted to nationals from enemy countries before the war became invalid from 3 September 1939). The Nazis outlawed Jewish emigration entirely in October 1941, and Britain showed no interest in accepting additional refugees unless they were directly advantageous to the war effort. All of this meant that the Jewish refugee population of Britain only increased by around 10,000 between 1939 and 1945.
Further reading
Gerhard Hirschfeld (ed.), Exile in Great Britain: Refugees from Hitler's Germany (Leamington Spa: Berg, 1984)
Colin Holmes, John Bull's Island: Immigration and British Society, 1871-1971 (Basingstoke: Macmillan, 1988)
Louise London, Whitehall and the Jews, 1933-1948: British Immigration Policy, Jewish Refugees and the Holocaust (Cambridge, Cambridge University Press, 2000)
Harriet Sherwood, 'The forgotten haven: Kent camp that saved 4,000 Jews', The Guardian, 24 August 2019 (https://www.theguardian.com/world/2019/aug/24/kitchener-camp-sandwich-kent-german-jews-haven)
Claudena Skran, Refugees in Inter-War Europe: The Emergence of a Regime (Oxford: Oxford University Press, 2011)