Following the outbreak of war in September 1939, all Germans and Austrians in Britain were classified as 'enemy aliens', regardless of their attitude towards the Nazi regime. The Home Office set up 120 tribunals to address the issue between September and December 1939, with all 'aliens' classified into three categories, depending on their perceived risk to the war effort. Some were barred from using motor cars or bicycles, or from owning a camera or maps (even those in guide books). Those deemed most 'at risk' were interned in various camps across the country, the largest of which was Hutchinson Internment Camp in the Isle of Man. 
Although only a few hundred people were interned at first, as the war progressed the government grew more alarmist. Conservative MP Tufton Beamish asked in parliament why more was not being done to stop the "influx of thoroughly undesirable people who ought to be fighting in their own country", while another suggested it would be "much better to intern all foreigners". Xenophobia was initially less strong than it had been during the First World War, but a Mass Observation report in April 1940 found an increasing hostility towards refugees from both the public and the press. It reached the conclusion that "it is becoming the socially done thing to be anti-refugee". 
The authorities quickly escalated their internment programme. In May 1940, 'protected areas' were set up around coastal areas deemed susceptible to invasion in which no aliens were permitted, and all aliens classed in the middle 'risk' category were interned. By June 1940, this was extended to all German, Austrian, and, by this stage, Italian, men over the age of 16, alongside women deemed in the upper two 'risk' categories. The result was the internment of approximately 28,000 'enemy aliens' (most of whom were Jewish refugees). 
One of those interned was the German refugee Gerhard Oertel, who had been working in forestry in Llangollen, Denbighshire before his internment. He later noted that "As far as myself and others were concerned, we had already made the acquaintance of prisons and concentration camps in Germany." Another refugee, Paul Hornig, recalled that "it was humiliating to have been rejected by the Austrians as a Jew, and imprisoned by the English as an Austrian". Paul was later accepted by the British Army, training at Aberdyfi with X Troop. 
Conditions in many of the camps were poor. Medical support was lacking, as was sanitation, and some refugees were forced to live in tents. The independent MP Eleanor Rathbone (later known as the 'MP for Refugees') drew attention to the situation in the House of Commons in July 1940. She criticised that despite many refugees being fervently anti-Nazi,
they find themselves treated as dangerous people and interned, under present conditions, along with their lifelong enemies — Jews and political refugees with Nazis — and treated as so dangerous that they may not even receive newspapers or listen to the wireless and they live in conditions very similar to those of a convict prison. 
Pro-Nazi internees would intimidate Jewish inmates by singing Nazi songs and rejoicing when there was news of German victories in Europe. Eventually, fascist sympathisers were transferred to another camp in Swanwick, Derbyshire, but there were still complaints of tensions as late as 1941.
There were limited exceptions to internment, such as some industrialists at Treforest Trading Estate whose businesses were essential to the war effort. Even so, nineteen of these refugees were interned, and 75 people connected to the estate were forced to move due to their proximity to Cardiff, which was categorised as a 'protected area' where no enemy aliens were permitted. Under the law, British women who married 'alien' men assumed their husband's nationality, and were also now subject to the wartime regulations. Some were even interned themselves. Gladys Pelican, a woman from the Welsh valleys, was required to get a permit to visit her husband, Fred Pelican, while he was stationed with the Pioneer Corps at Weymouth. In his memoirs, Fred wrote: "What an absurdity. I am an alien in the forces, was allowed to travel anywhere and she was under restrictions. How silly can one get".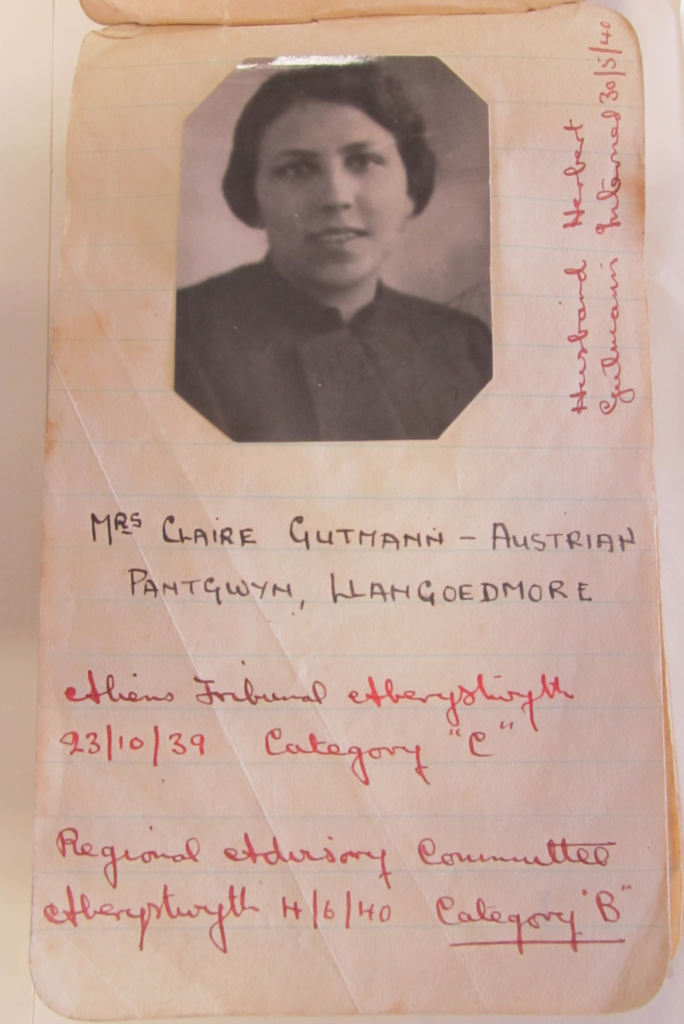 Local police forces were required to make lists of any aliens within their district (whether residents or simply visiting). The Cardiganshire Constabulary kept a notebook which recorded fifty aliens in the county at the start of the war, approximately 29 of whom were categorised as refugees.
Claire and Herbert Gutmann were Viennese Jews who had fled to Wales before the war began. Herbert had been a manufacturer in Austria, but worked as a caterer in Ceredigion. The couple lived alongside several other refugees in Llangoedmor, just outside Cardigan.
Herbert was arrested and sent to Swansea Prison in September 1939, but was released soon afterwards, and both he and Claire were categorised as 'C' aliens – the least 'dangerous' category. In May 1940, however, Herbert was recategorised, rearrested, and interned. Almost all of the aliens in the records of the Cardiganshire Constabulary were initially exempted from internment, but eighteen (mostly male) were eventually interned, with a further six deported to either Canada or Australia.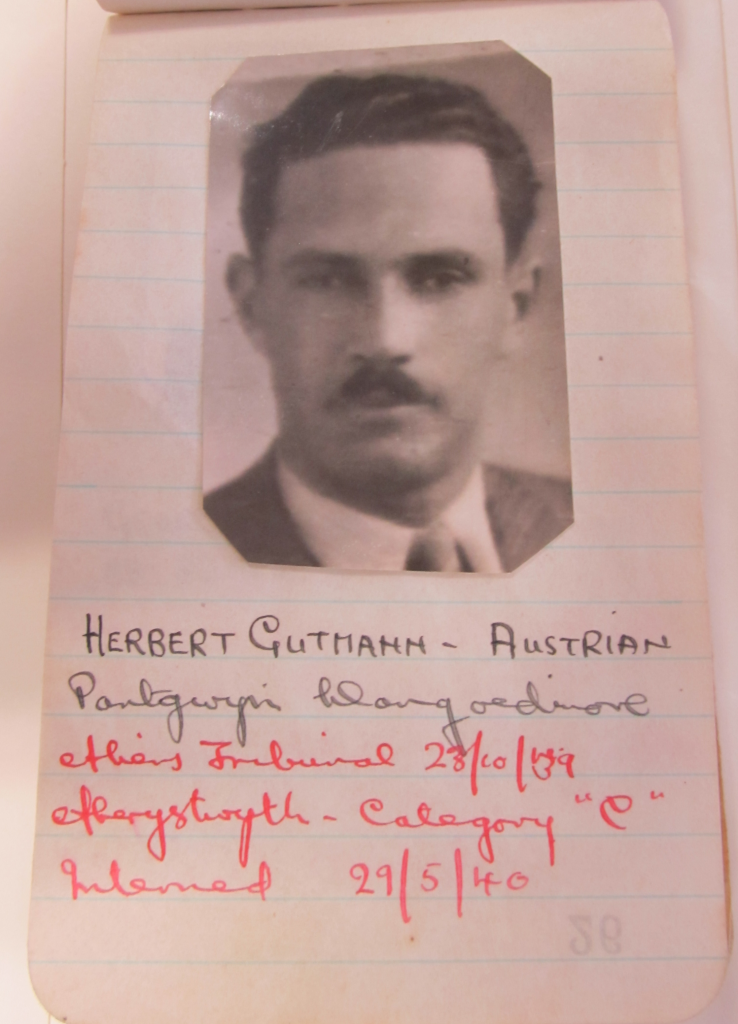 Dorothy Fleming's father, Erich Oppenheimer, was interned on the Isle of Man. In this clip, she describes the day he was arrested at his residence in London: 
Erich was released with the help of his brother-in-law and went on to work at Treforest Trading Estate. 
Dorothy avoided internment, but on her sixteenth birthday, she was officially declared an enemy alien. She remembers how this affected her while she and her family were living in Cardiff:
"Up till then, I'd been a child, but when you were sixteen you were an enemy alien, and I had to go and report to the police. And my fellow pupils just sort of laughed me out of it and said, "don't worry, we know you're not an enemy alien"... it's really the name that was more upsetting than anything"
Some refugees were deported to other countries. Eli Dror came to Britain on a Kindertransport in January 1939 and later joined the hachshara at Gwrych Castle in Abergele. He was interned at Huyton near Liverpool, and in July 1940 was one of over 2,500 'enemy aliens' who were taken to Australia aboard the HMT Dunera. This ship became notorious for the British soldiers on board stealing the belongings of internees, including gold watches and wedding rings. Guards even made Jewish refugees run barefoot on broken glass, while Nazi prisoners-of-war laughed on. 
The passage was dangerous in wartime. In early July 1940 a ship carrying 'enemy aliens' to Canada called the SS Arandora Star sank after being hit by a German torpedo, killing over 700 people. Evelyn Ruth Kaye was a child refugee from Vienna who fled to Britain and eventually settled at a boarding school for disabled children in Builth Wells. Her father was interned on the Isle of Man and initially boarded the ship. She recalled that "the BBC announced the names, and my father's name was amongst them, and we waited for about a fortnight…he had got onto the ship but being absentminded he'd forgotten his passport so they turfed him out".
Following the disaster, which prompted a change in public attitudes towards internment, the government began releasing internees. By October 1940, 5,000 Germans, Austrians and Italians had been released, and by 1942 less than 5,000 remained interned.
Further reading
Leah Garrett, X Troop: The Secret Jewish Commandos of World War II (London: HMH Books, 2021)
Gerhard Hirschfeld (ed.), Exile in Great Britain: Refugees from Hitler's Germany (Leamington Spa: Berg, 1984)
Colin Holmes, John Bull's Island: Immigration and British Society, 1871-1971 (Basingstoke: Macmillan, 1988)
Roger Kershaw, 'Collar the lot! Britain's policy of internment during the Second World War, The National Archives, 2 July 2015 (https://blog.nationalarchives.gov.uk/collar-lot-britains-policy-internment-second-world-war/)
Gerhard Oertel, 'Trade union activity of German refugees during the Second World War in the Forestry of North Wales: recollections of personal experiences', Immigrants & Minorities, 14: 3 (1995), pp 257-64
Cai Parry-Jones, The Jews of Wales: A History (Cardiff: University of Wales Press, 2017)
Fred Pelican, From Dachau to Dunkirk (London: Vallentine Mitchell, 1993)
Rachel Pistol, 'Enemy Alien and Refugee: Conflicting Identities in Great Britain during the Second World War', University of Sussex Journal of Contemporary History, 16 (2015), pp 37–52