One avenue for refugees to enter the UK in the interwar period was to gain a visa as a domestic servant (or domestic). Although the British government was very reluctant to accept refugees in any great number, the perceived shortage of domestic workers forced them to make an exception. Controls on foreign domestic servants were relaxed as early as 1930, and around 20,000 women from Germany, Austria and Czechoslovakia arrived in Britain on domestic visas before the outbreak of war in 1939.
Some were accepted to work in private homes as housekeepers, companions, nursemaids or governesses, but the vast majority were admitted for basic domestic work. There was also a small number of Jewish men admitted as butlers or gardeners. These refugees were not allowed to change jobs without Home Office permission, although the vast majority left domestic service quickly if they found an alternative.  
Many refugees were ill-prepared for life as domestic workers; middle-class Jewish refugees were more likely to employ servants of their own than to have worked as domestics in their home countries. Some mothers used domestic service visas as a way to join their children who had come to the UK on the Kindertransport. Others saw their previous gender roles flipped, becoming breadwinners as their husbands were barred from practising former employment as doctors or lawyers. Employers often treated the refugees with contempt, and some women were even forced to work under mistresses with fascist and antisemitic sympathies. Unsurprisingly, many refugees loathed their time in domestic service.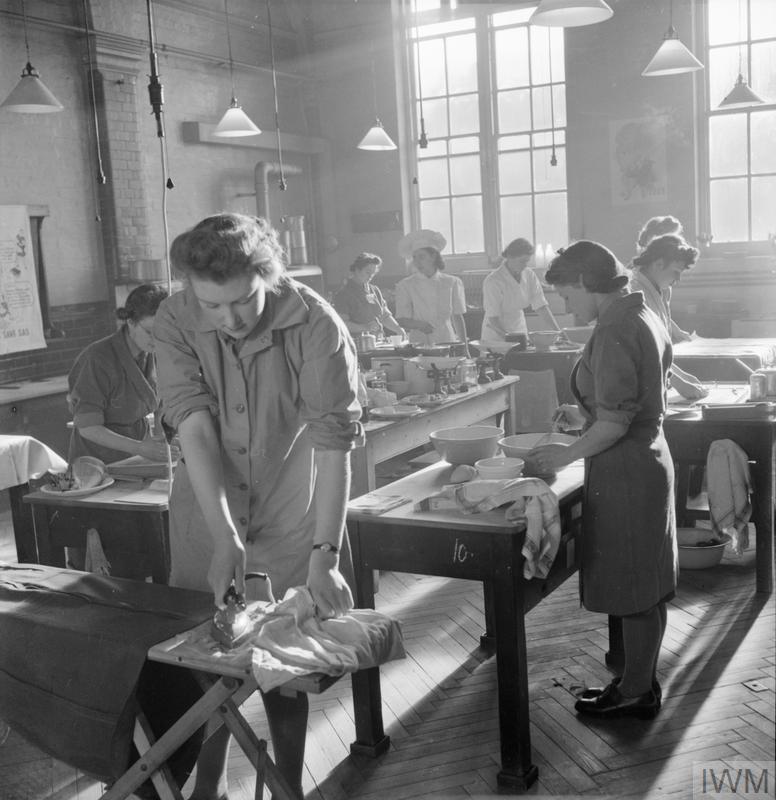 Refugees were barred from joining the newly formed National Union of Domestic Workers, since members worried that they would push down wages and conditions. In reality, it was employers who subjected refugees to mistreatment. One refugee complained to her mistress about having to scrub floors and clean from 8am until 11pm with only half an hour's break. The lady of the house responded that "If it's too much for you, I'll send you back to Hitler." The Central Office for Refugees published a pamphlet entitled Mistress and Maid: General Information for the Use of Domestic Refugees and Their Employers in 1940 to offer advice for refugees unfamiliar with the niceties of the British class system:
In this country it is good manners to speak and walk quietly, both in the house and in the street and public places. You will notice that the mistress usually states her requirements in the form of a request. This should be carried out at once as an order. It is not correct to argue with a mistress.
When war broke out, the condition on Home Office permission for changing jobs was lifted, but this was tempered by the threat of internment. Refugees often lost their jobs if their place of employment fell within a "protected area", or because their employers simply refused to employ "enemy aliens" within their own homes. Almost half were sacked on the outbreak of war. Following this, the Domestic Bureau of the Central Office for Refugees took over responsibility for maintaining domestics who were unable to work. In July 1940 this amounted to 2,650 cases, with unspecified mental health issues one of the main reasons given.
Fanny Höchstetter came from the small town of Biberach, near Laupheim in southern Germany. From a Jewish family (she was a distant cousin of Albert Einstein), Fanny had risen by the age of 30 to become a senior civil servant in Stuttgart, the state capital. When the Nazis came to power in 1933, however, Fanny and her sister Bertl (who was also a civil servant) lost their jobs. 
Fanny fought hard to get official documentation of her "retirement", even travelling to Berlin to petition the Reich Post Minister Paul Freiherr von Eltz-Rübenach. She was eventually successful, but the increasingly hostile atmosphere meant she fled the country in August 1939. Many of her relatives were unable to escape, and were murdered by the Nazis in Riga, Latvia, in the Holocaust.
Bertl had arrived in Britain in May 1938, and worked as a domestic in the Wirral. She managed to secure Fanny a job as a chambermaid at the Hand Hotel in Llangollen. Fanny had no experience of domestic work, although her uncle had written her a glowing reference which highlighted (falsely) her skills in cleaning and housework. 
She did not enjoy life as a domestic, but managed to persevere. The hilly, forested landscape of the Dee Valley reminded Fanny of her former home around Laupheim. According to her son, Ernie, it was "a shock but she lived with it and made it work". 
In Wales, she met fellow refugee Anton Hundsdorfer, and the pair quickly married. They had their first son, Peter, in 1942, and Ernie followed soon after, in 1946. The family left Wales for Manchester in 1945, and Fanny later set up a DIY business, while Anton founded his own joinery concern.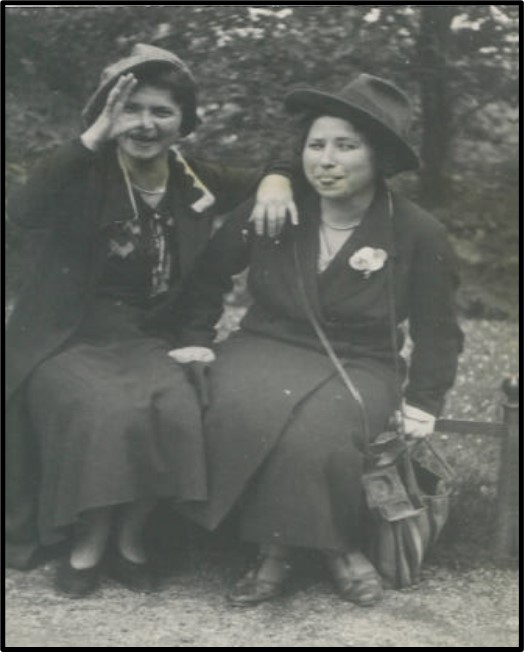 Pepi and Fanni Firestein were two Jewish sisters who fled to Britain with the help of the Polish Jewish Refugee Fund (PJRF). This organisation was set up by Jews in England in response to the Polenaktion (Polish Action) of the Nazis in 1938. This was the forced deportation of Jews living in Germany whose Polish citizenship had been rescinded by the Polish government. Around 17,000 Jews were moved to a range of towns along the Polish-German border, the largest of which was Zbąszyń in Poland. 
The Firestein sisters had initially been fostered by a Jewish family in London, but after the war began, they were evacuated to Aberystwyth. Here they were put to work as housemaids in non-Jewish homes, and became deeply unhappy both in their jobs and in the town, which had few Jewish residents. The PJRF requested to the Ministry of Labour that the girls move back to London, but it refused, claiming that they "should be left undisturbed in their present jobs" because they "are doing work of value to the community and are receiving valuable training in domestic service". Several months passed before the ministry relented and allowed the sisters to return to London, but soon after they came back, Pepi, the younger sister at age fifteen, suffered a mental breakdown and was hospitalised. 
She was eventually released and sent to live with a "very nice Orthodox Jewish family", performing only light domestic duties and going for daily walks with their two young children. Although Pepi recovered and was able to work again, two years later she was hospitalised once more, with the PJRF covering the cost of care. Clearly, the whole experience had been a highly traumatic one for the young refugee, one not helped by the isolation of domestic work in Aberystwyth.
Evelyn Ruth Kaye's mother came to the UK on a domestic visa, and worked as a domestic for two ladies at Warwick Gardens in London. Evelyn's aunt and grandmother also came over and worked as cooks in Birmingham. They brought with them a book entitled How to Cook for the English to give them some instruction on how different the food was from their native Austria. Evelyn was evacuated to the Isle of Wight in 1940, but her situation worsened dramatically when her guarantors, the Lyons family (of restaurant and food manufacturing fame), broke off ties with her, as she recounts in this interview with the Imperial War Museum in 2007:
Joe Lyons phoned my mother and said "Look, they're cutting the ferries between the Isle of Wight and England, so if you want to see your daughter you can have her, you know, we'll send for her, but we don't want to have anything more to do with her." And, it was my mother's half-day, and the people she worked for said "Yes, you'd better send Evelyn over." So when my mother came back from her half-day, there I was, and the people said we're not having a cook-shine girl with a child, you'd better find another position. So we were homeless.
They were taken in by a Quaker who spoke German and met Evelyn's mother while she was crying at a bus stop, and earned money sewing buttons and twisting curlers. When her mother fell ill and was hospitalised, the Quaker woman arranged for Evelyn to move to Builth Wells in Wales. Here she fared much better, attending a school for disabled children, and returned to live with her parents (her father had also managed to flee to Britain but was interned on the Isle of Man) after she had completed her studies in 1946.
Further reading
Mario Cacciottolo, 'Nazi persecution saw Jews flee abroad as servants', BBC News, 8 March 2012 (https://www.bbc.co.uk/news/uk-16942741)
Domestic Bureau, Mistress and Maid. General Information for the Use of Domestic Refugees and Their Employees (London: Central Office for Refugees, 1940)
Jennifer Craig-Norton, The Kindertransport: Contesting memory (Bloomington, IN: Indiana University Press, 2019)
Jennifer Craig-Norton, 'The untold stories of the Jewish women who became domestic servants in Britain to escape the Nazis', The British Academy Blog, 19 July 2019 (https://www.thebritishacademy.ac.uk/blog/untold-stories-jewish-women-domestic-servants-britain-escape-nazis/)
Rose Holmes, 'A Moral Business: British Quaker work with Refugees from Fascism, 1933-39' (PhD thesis, University of Sussex, 2013)
Tony Kushner, 'Politics and Race, Gender and Class: Refugees, Fascists and Domestic Service in Britain, 1933–1940', Immigrants & Minorities, 8:1-2 (1989), pp 49-58
Louise London, Whitehall and the Jews, 1933-1948: British Immigration Policy, Jewish Refugees and the Holocaust (Cambridge, Cambridge University Press, 2000)