Food has always been an important part of people's culture; the French philosopher of food Jean Anthelme Brillat-Savarin famously said "Tell me what you eat; I will tell you what you are." Refugees fleeing Central Europe had to adapt to a totally new national cuisine, which could seem strange. Wartime rationing also meant that many of the staples they had been used to were unavailable. Food could, however, act as a unifying force, or as a powerful memory of their former homes.
Rationing affected areas differently, with rural areas often able to supplement their diet with home-grown produce. Kate Bosse-Griffiths, who married a Welshman at the start of the war, remembered being taught Welsh cooking by her new mother-in-law in Pentre. Apparently there was always "plenty of food", with "fruit, full corn bread, milk, meat, etc, cereals in the morning". She was even able to send packages of coffee and chocolate to her brother in the Soviet-occupied zone of Germany in the immediate postwar period.
Food writer Claudia Roden maintains that "Every cuisine tells a story. Jewish food tells the story of an uprooted, migrating people and their vanished worlds." Jewish cuisine in Britain during the early twentieth century was primarily of Polish and Russian origin. This was because large numbers of Jews from these countries fled poverty and persecution from the Russian Empire during the late nineteenth century, with many settling in areas like London's East End. Dishes such as chopped liver and salt herring, gefilte fish balls and latkes (potato fritters) were popular. 
The emphasis on meats and fish was reflective of life in Eastern Europe, where Jews were often forbidden to grow crops like vegetables. Famously, it was Jewish immigrants who first introduced fish and chips to Britain in the mid-nineteenth century. Josef Herman, a Polish refugee who lived in Ystradgynlais in Powys from 1944-55, remembered with great fondness the way his mother used to cook carp (a popular Sabbath dish) in Warsaw:
Well she would buy a big carp, cut it up in slices, and then first of all boil…parsnip, carrots, onions, and this she would steam for a long time till they were almost mash, always adding a bit of water, sugar, salt, pepper. And then, when this has steamed for a long time, then she would put in the carp. And I still cook it in this way for my wife, when I cook, when I get the chance of cooking carp I cook it in this way, you know. It was really a delicious thing. But the aromas were just incredible…And the sauce is so lovely, you know. So, but this is all from childhood, and it remains with me still today.
Jewish cuisine in Central Europe, where many refugees came from during the 1930s, was heavily influenced by that of the former Austro-Hungarian Empire, with sweet dishes like soufganioth (jam dougnhuts) or apple strudel. Many of these recipes were found in Jewish cookbooks like Florence Greenberg's The Jewish Chronicle Cookery Book (1934) or May Henry and Edith Cohen's The Economical Jewish Cookbook: A Modern Orthodox Recipe Book for Young Housekeepers (6th edition, 1937). When Evelyn Ruth Kaye's family moved to Britain from Austria, her grandmother brought a cookbook named Wie koche ich in England (1938), or How to Cook for the English, which contained recipes as well as useful English vocabulary relating to food, cooking equipment and procedures, domestic objects and measurements.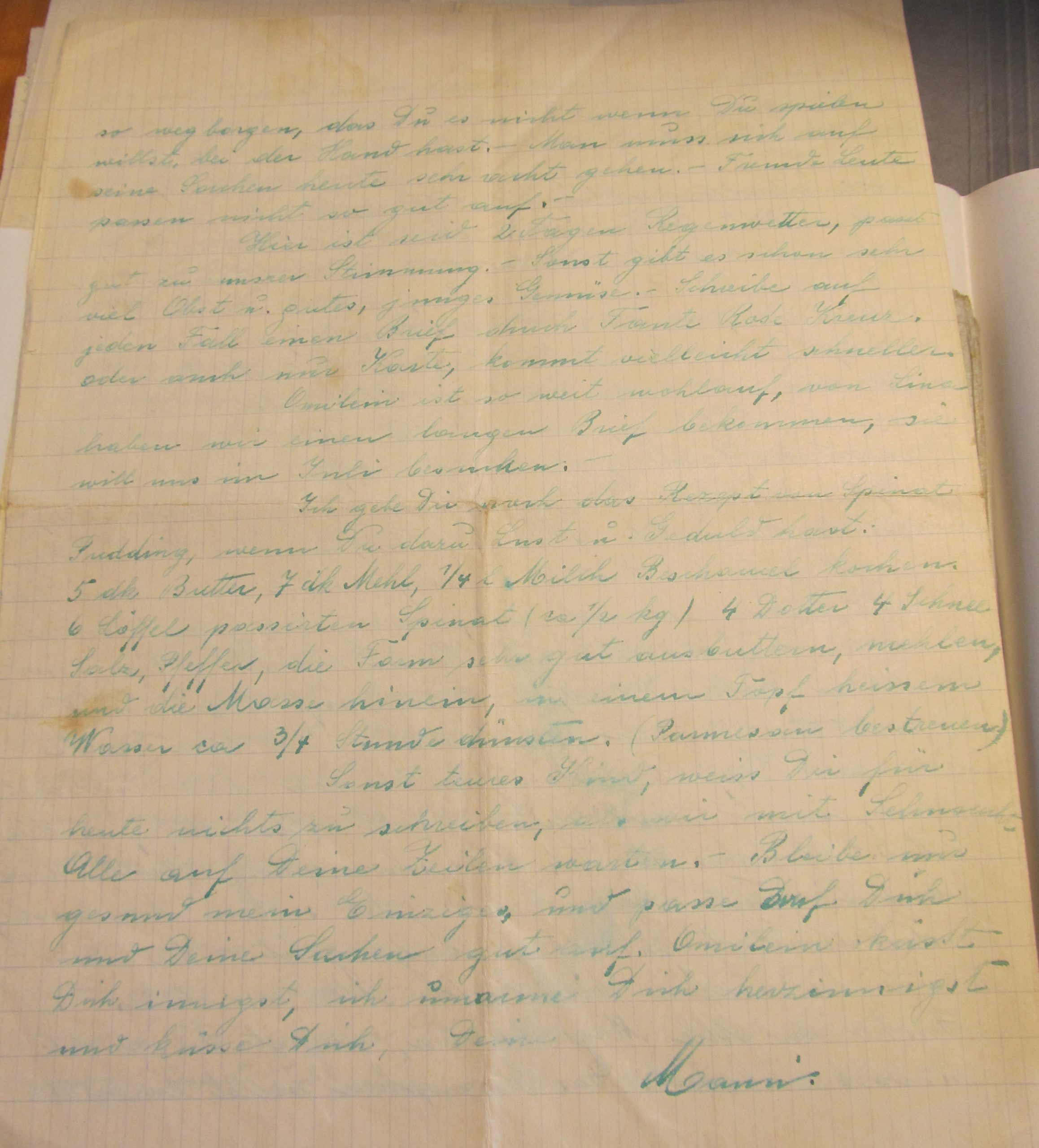 Edith Payne (née Guttmann) was born in Trnava, Czechoslovakia in 1921. She was brought up in Bratislava but moved to Caen, France to study in 1937. When war broke out, she fled to Britain, initially settling in Birmingham. She married a local man, Paul, in 1940, and worked as a teacher in Llandudno when he was posted to the army. 
In this letter to Edith from her mother Paula (originally from Vienna), we find a traditional Austrian recipe for spinach pudding. Paula warns Edith only to attempt it if she has "the patience for it":
5 dk (decagrams, or 10 grams) butter
7 dk flour
1/4 litre milk
6 tablespoons strained spinach (c. 1/2 kg)
4 egg yolks
4 beaten egg whites
Parmesan cheese
Salt & pepper
Make a béchamel using butter, flour and milk. Grease a dish with butter and add the remaining ingredients (except the parmesan). Place the dish over a pot of boiling water and simmer for 45 minutes. Sprinkle with parmesan.
Unfortunately, Edith later wrote back saying that she had given up making Austrian specialities, since Paul no longer ate them.
Although Edith managed to escape Nazi-occupied Europe, her parents were less fortunate. Both Jewish, they were arrested, deported to Auschwitz, and murdered soon after arriving.
A young Renate Collins was concerned about cuisine in Wales before she made the journey on the Kindertransport. In this clip, she remembers hoping that some staples in Czechoslovakia didn't make the menu in Porth!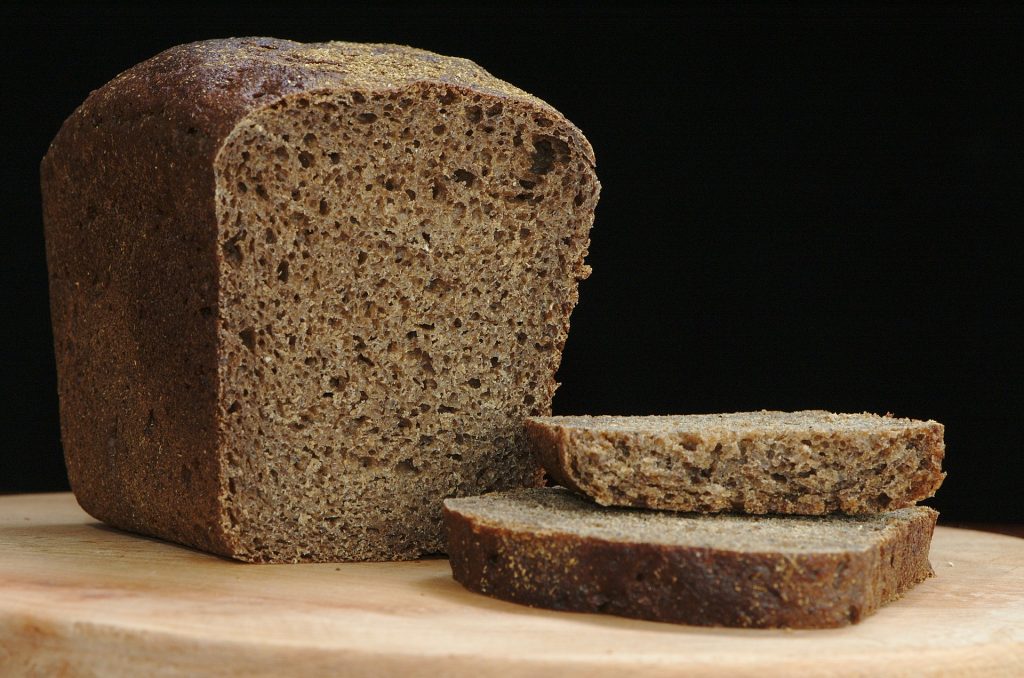 The first time Ellen Davis was served a meal at her new home in Swansea, the quantity and strangeness of what was on the table overwhelmed her. She had been used to much smaller meals at an orphanage in Germany, and the sight of so much unfamiliar food made her feel unwell: "When I looked for something, anything that I could find familiar, I saw bread but even this was wrong. In Germany, bread was black, on this table it was white." She was sent to her room as punishment for refusing to eat, "but this was the very relief for which I had waited."
For many Jewish refugees, one issue in terms of food was keeping kosher. Jewish dietary laws (kashrut) required the faithful to only eat the meat of 'cud-chewing animals with cloven hooves', such as sheep, goats or cows, and any animal needed to be killed in the appropriate way (schechita) by a professional slaughterer (schochet). There were also laws prohibiting shellfish, and those dealing with religious days and festivals, such as Passover.
Jewish refugees found several ways of sticking to these rules. In some areas, such as South Wales, there were dedicated Jewish butchers who were able to sell kosher meat. In the 1930s, the Krotosky family owned kosher butchers in Cardiff and Merthyr Tydfil, and there were others owned by Jews in Cardiff and Swansea. There was even enough demand for a kosher restaurant opened by the Jewish Institute and Social Club in High Street, Cardiff. In other instances, meat was slaughtered by a member of the local Hebrew Congregation and then sold at non-Jewish butchers, often on separate days or at a special counter. For those communities without access to kosher butchers, the answer was to buy meat from other centres, such as Manchester and Liverpool. 
It was, nevertheless, not always easy to maintain a kosher diet. Reni Chapman was born in Düsseldorf and arrived in Wales in 1945 after having previously lived in Latvia, Baghdad and Palestine. When she moved to the Gower Peninsula to live with her Welsh husband, Jewish food simply disappeared due to rationing. Ellen Davis was unaware that the chips she ate from the local fish and chips shop in Swansea were cooked in lard, made from rendering pig fat (and thus not kosher). For those refugees who were interned, the diet often consisted chiefly of canned vegetables and fish. Manfred Gans (who later joined X Troop), became "quite weak because of the lack of [kosher] food" at Prees Heath camp, just outside Shrewsbury, although other camps were better supplied.
At Gwrych Castle, Arieh Handler made sure that all the children were able to eat kosher: "in our places, not only was Shabbat (Sabbath) kept 100%, and kashrut…everything connected with religion was kept properly". Children did have to become accustomed to British food, though, which led to "a certain amount of indigestion". There was also a lack of vegetables, meat and fat, which left some children "rather pale". Herman Rothman left the castle to join the army, and ordered parcels from a group in London to try to maintain a religious diet. These were irregular, however, and he was forced to eat non-kosher meat, having first attempted a vegetarian diet, which proved impossible during his service. Colin Anson, another member of X Troop, tasted dark bread and 'Hunter' sausages for the first time since his youth at an abandoned German officers' mess while serving in Sarandë (Albania) in 1944.
Kosher meat was scarce in the army, but one company based in Cardiff did supply kosher tinned meat to Jewish troops. Julius Skrek was originally from Hungary, but fled to Wales and set up a factory in Canton just after the war began in 1939. According to the Reverend Leslie Hardman, a Welsh Jewish chaplain in the British army, the meat in the tins had "big lumps – they looked ugly", but tinned kosher food served an important purpose. The factory was located next to a school, and the playground (from which the distinctive aroma of the meat-processing plant could be smelled), was known to children as "Skrek's Yard". Skrek's soon became one of the leading manufacturers of kosher tinned goods, with another base in London. Julius was active in the Cardiff United Hebrew Congregation, donating a piece of freehold land to the community in 1951, and he was also on the Board of Deputies of British Jews. He died in Mayfair, London in 1984.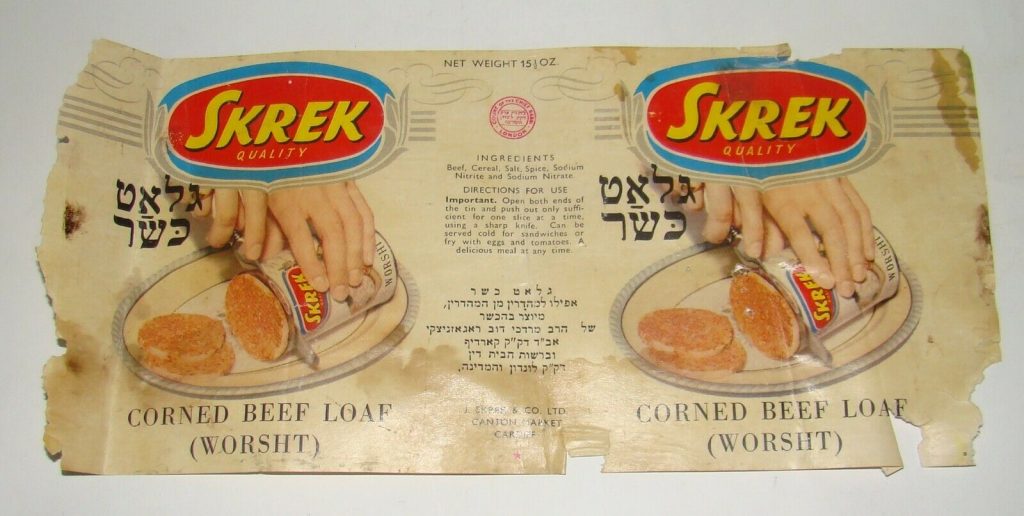 Further reading
Ellen Davis, Kerry's Children: A Jewish Childhood in Nazi Germany and Growing up in South Wales (Bridgend: Seren, 2004)
Leah Garrett, X Troop: The Secret Jewish Commandos of World War II (London: HMH Books, 2021)
Heini Gruffudd, A Haven from Hitler (Talybont: Y Lolfa, 2014)
Gerhard Hirschfeld (ed.), Exile in Great Britain: Refugees from Hitler's Germany (Leamington Spa: Berg, 1984)
'Health and Hygiene', Gwrych Castle Year Book 1939/40 (Wiener Holocaust Library, OSP3600)
Martin Johnes, Wales since 1939 (Manchester: Manchester University Press, 2012)
Panikos Panayi, 'The Anglicisation of East European Jewish Food in Britain', Immigrants & Minorities, 30:2/3 (July/November 2021), pp 292-317
Cai Parry-Jones, The Jews of Wales: A History (Cardiff: University of Wales Press, 2017)
Claudia Roden, The Book of Jewish Food: An Odyssey from Samarkand and Vilna to the Present Day (London: Penguin, 1999)