No. 3 Troop of No. 10 (Inter-Allied) Commando ("X Troop")
The No. 3 Troop of No. 10 (Inter-Allied) Commando was formed in July 1942. It was the brainchild of Lord Louis Mountbatten (then head of Combined Operations), who wanted to use the language skills of German and Austrian refugees as part of a clandestine commando force for operations behind enemy lines. Led by a Cambridge language graduate from Caernarfon named Captain Bryan Hilton-Jones, the troop consisted of 130 men (87 of whom were German-speaking refugees), who were billeted at Aberdyfi in the shadow of the Snowdonia mountains. 
Almost all were Jewish, and some had fought in the Spanish Civil War years earlier. Five of them had previously been deported to Australia aboard the infamous HMT Dunera and interned at Hay, New South Wales. For nine months, recruits trained in the difficult terrain, adopting British-sounding names to prevent suspicion arising and destroying all traces of their previous lives (including removing Jewish prayer objects like the tefillin and tallis). This secrecy led Winston Churchill to dub them "X Troop". 
Colin Edward Anson (a German Jewish refugee whose name was originally Claus Leopold Octavio Ascher) was a member of X Troop, and remembered the basic training as "quite demanding…probably intentionally off-putting in some ways in order to weed out those whose heart wasn't really in it".
"We were brought up to a peak of fitness and training which in retrospect was quite astonishing to us" "We got onto the train back to Aberdyfi, where eventually we were issued with our green berets, and felt very grand"
"First [you were] a hate object. Then if you were lucky and not killed you were a refugee. Then you were, in my case, a farmhand...After that I became a soldier in the Pioneer Corps in the labour unit without weapons. And now comes the [ultimate] transformation like a butterfly out of a cocoon to the elite of the elite. Try and tell me that this isn't thrilling to a young guy."
Many recruits had previously been members of the non-combatant Pioneer Corps. Tony Firth (AKA Hans Fürth) was bemused when he was told at his interview for X Troop that he would be given advanced explosives and weapons training. He wrote in his memoir that "I found it rather odd that one day I could not be trusted with anything more lethal than a broom stick and the next I was told that I was going to be a spy for the British."
Training at Aberdyfi also involved fieldcraft, camouflage, street fighting, housebreaking and lockpicking. At one point, recruits were ordered to break into Harlech Castle (guarded by the Home Guard) to retrieve documents (as some troops were required to do during an operation at Dieppe in August 1942). 
Most of the commandos were highly educated and polite to their hosts, and the local community reciprocated, organising weekly dances and occasional discussions and debates. One commando, Max Lewinsky (AKA Max Laddy), had been a professional dancer back in Prague. His prowess on the dancefloor was clearly appreciated by one local: he married Aberdyfi resident Margaret Rees in 1943. Lewinsky had already spent some time in Wales before enlisting in X Troop, working as a farmhand in Lower Machen, near Newport before being interned and deported to Australia in 1940.
Although X Troop never fought as a single unit, its members were seconded to other commando formations and deployed in operations in Italy, Greece, Yugoslavia, Albania, the Netherlands, Belgium, France, and Germany. Their expertise, honed by the gruelling training regime, was highly prized by commanders. Colin Edward Anson was badly injured in Sicily, requiring a brain operation, but rejoined the war on the island of Vis in Yugoslavia some months later. After the war he managed to find his mother in Germany, who he then helped move to Britain.
Forty-five members of X Troop participated in the D-Day landings at Normandy on 6 June 1944, of which 27 were killed, wounded or reported missing. Max Lewinsky was killed on a landing craft alongside fellow member Ernest Weinberger. Lewinsky's young wife was pregnant back in Aberdyfi when he died. George Lane (born György Lányi in Upper Hungary, now mostly part of Slovakia) was a member of the Special Operations Executive (SOE) who was captured by the Germans in Occupied France. Incredibly, he managed to avoid detection as a Jewish refugee by putting on his best Welsh accent (which he had acquired after being billeted at Aberdyfi) while being questioned by German Field Marshal Erwin Rommel.
Eighteen X Troop commandos were commissioned during the course of the war, with four receiving battlefield commissions. One of them, Manfred Gans, was even able to reunite with his parents when he found them at Theresienstadt. Most X Troopers, however, were the only family members to survive the war. X Troop leader Hilton-Jones later recalled that "Despite many and serious difficulties, this band of 'enemy alien' volunteers earnt for itself a not unflattering reputation, the achievement of which was in no small measure due to the sincerity and wholeheartedness put into his service by every member of the troop. For them perhaps more than for any others it was a question of self-respect and self-justification."
The troop was formally disbanded in September 1945, but many commandos remained in Germany to use their unique skills during the denazification process. Although there was some delay, the X Troopers were subsequently naturalised as British citizens, having been classified as 'enemy aliens' since 1939. Some members eventually returned to Wales; Konstantin Goldstern (AKA Robert Kenneth Garvin) lived there until his death in Ceredigion in 1981. In 1999, a memorial was erected in Aberdyfi commemorating their sacrifices, alongside a Commando Rose Bed. Over twenty veterans were able to attend the ceremony.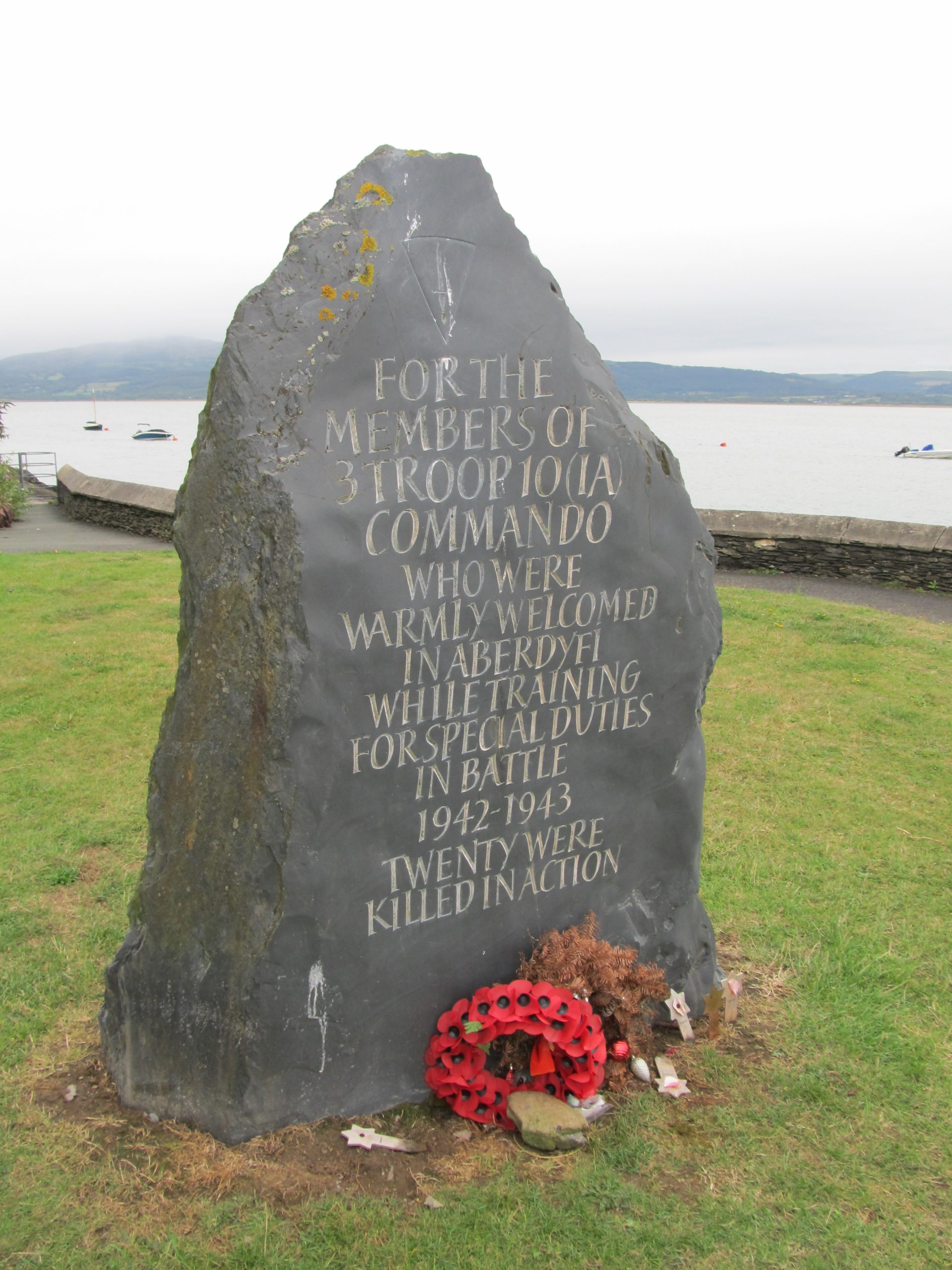 Further reading
'3 Troop ('X' Troop)', Commando Veterans Archive (http://www.commandoveterans.org/book/export/html/986)
Leah Garrett, X Troop: The Secret Jewish Commandos of World War II (London: HMH Books, 2021)
Steven Kern, 'Jewish Refugees from Germany and Austria in the British Army, 1939-45' (PhD Thesis, University of Nottingham, 2014)
Cai Parry-Jones, The Jews of Wales: A History (Cardiff: University of Wales Press, 2017)
Martin Sugarman, 'World War II: No. 3 (Jewish) Troop of the No. 10 Commando', Jewish Virtual Library (https://www.jewishvirtuallibrary.org/no-3-jewish-troop-of-the-no-10-commando). Martin is the archivist and historian for the Association of Jewish Ex-Servicemen; thanks to him for providing more information on X-Troop