Morris Brodie, Digital Intern at Aberystwyth University
In the Ceredigion Archives in Aberystwyth, there is a book compiled by the Cardiganshire Police in 1939 containing photographs of Jewish refugees who fled from Nazi tyranny before the Second World War. These are not records of Welsh hospitality, however. They are arrest records, taken as a result of the reclassification, upon the outbreak of war, of all German and Austrian nationals living in Britain – whatever their political sympathies or background – as so-called "enemy aliens".
Many of them had lost their citizenship under Nazi rule; despite this, they were now required to report to the police and appear before special tribunals to determine if they were "friendly" – and thus deemed "low risk" – or "unfriendly". The difference could mean detention in an internment camp on the Isle of Man, or even deportation to Canada or Australia. Most Germans and Austrians avoided this fate initially, although several hundred were interned.
Two refugees listed in the Cardiganshire Police Memo Book are Werner and Elspeth Rüdenberg, originally from Germany but in September 1939 living at Rheidol Terrace in Aberystwyth. A mother and son, their experience is unique but not atypical of refugees who found themselves in Wales on the outbreak of the Second World War.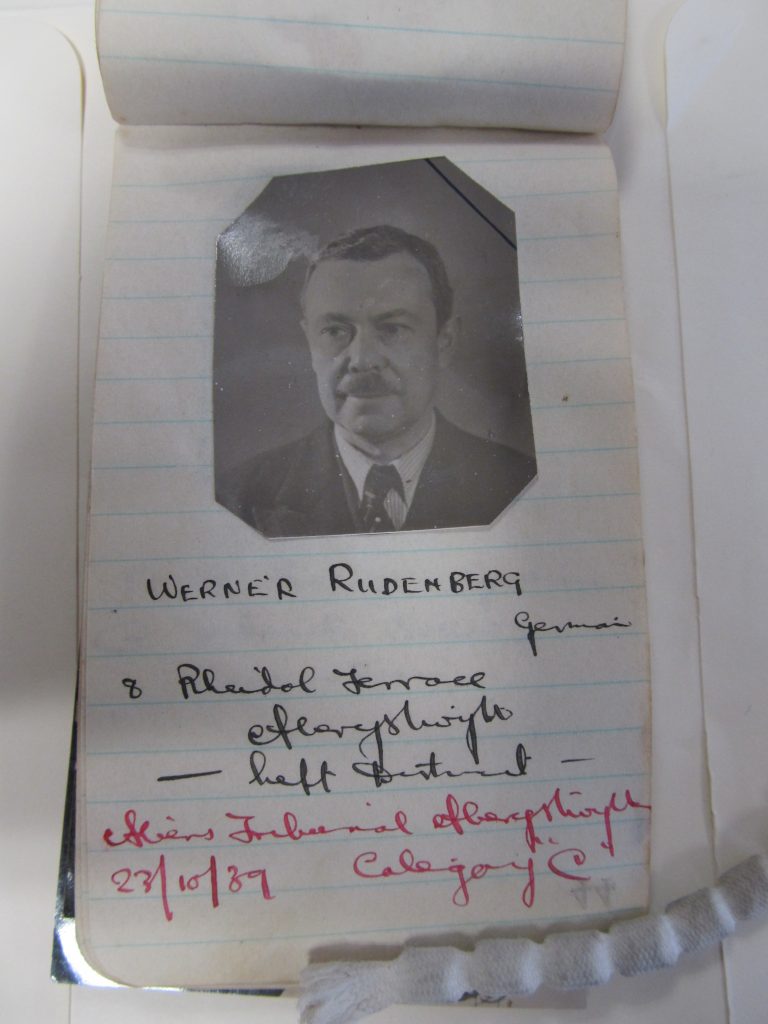 Figure 1. The Police Memo Book includes pages with information on Werner Rüdenberg and his mother Elspeth (Elizabeth), who were living at Rheidol Terrace in Aberystwyth (From the collections of Ceredigion Archives, ref. no. MUS/204)
The story of the Rüdenbergs in Aberystwyth begins in Berlin in 1936. Following the Nuremberg Laws of 1935, which stripped Germany's Jews of their citizenship rights, Werner's brother, Reinhold, prepares to flee the country with his wife, Lily, son Hermann and daughter Angela. With the help of Thomas Jones, a Welsh civil servant, educationalist and later president of Aberystwyth University, the young family escapes to Britain and joins their other son, Günther, who is already studying in England. Before taking up a post in 1938 as professor of electrical engineering at Harvard University in the United States, however, Reinhold implores Jones to assist in securing employment for his older brother Werner, a renowned China scholar and businessman.
Werner and his wife Anni had, until the end of 1937, been living in Shanghai, where Werner worked for a German export firm. Following his dismissal on account of his Jewish origin, Werner and Anni travelled to Britain, arriving by boat in February 1938. With the help of Jones, Werner secures a contract to write an English-Shanghai dialect dictionary (he had already published the first German-Chinese dictionary in 1924). Werner decides to work on the book at the National Library of Wales, and this brings the couple to Aberystwyth in April 1939. The Rüdenberg matriarch, Elspeth, who had previously been living with her daughter in Freiburg and survived the November Pogrom (Kristallnacht), now joins her eldest son in Aberystwyth, but when war breaks out in September 1939, Werner is arrested as an "enemy alien".
Werner is seized after returning from a Saturday evening walk and barred from taking any food, baggage or even an overcoat. By an unfortunate coincidence, staying with the Rüdenbergs at the time are Dr Julius Sonnenfeld and his wife Elizabeth (Werner's cousin), who have also managed to escape from Germany. Although they are only stopping in Aberystwyth before emigrating to the US, the Sonnenfelds, too, cannot avoid the initial aliens roundup. Julius and Werner are quickly transferred to Swansea Prison and held there for several days. In a state of panic and unable to leave the house herself, Anni writes to their guarantor Thomas Jones for help. Jones dispatches a telegram to the Home Office complaining of "excessive zeal" on the part of the local police and is able to secure their release.
Although shaken by the experience, Werner is comforted by the response of the Aberystwyth locals. He writes to Jones that he "was stopped by numerous people to-day who wished to express their joy at seeing me back". In October 1939, the Sonnenfelds and Elspeth Rüdenberg leave the area for good, sailing to America to join Reinhold, Lily and their three children.
For Werner and Anni, however, the drama does not stop there. They leave Aberystwyth in January 1940 and move to Cambridge, where a Chinese scholar has offered Werner to help him complete his dictionary. In the meantime, Anni's brother, Fritz Pincus and his wife Lily also escape Germany and (with the help of Thomas Jones) settle in Harlech, Gwynedd. In May 1940, world events once more overtake the Rüdenbergs' plans. The rapid advance of the Wehrmacht through the Netherlands, Belgium and France panics the British government, and they make the decision to intern all male "enemy aliens" (which by June 1940 included Italian nationals). Some 28,000 people, the vast majority of whom were Jewish refugees, are interned and held in camps throughout Britain. Werner and Fritz are arrested, and Werner is shipped to the Isle of Man, where the majority of internees were eventually held.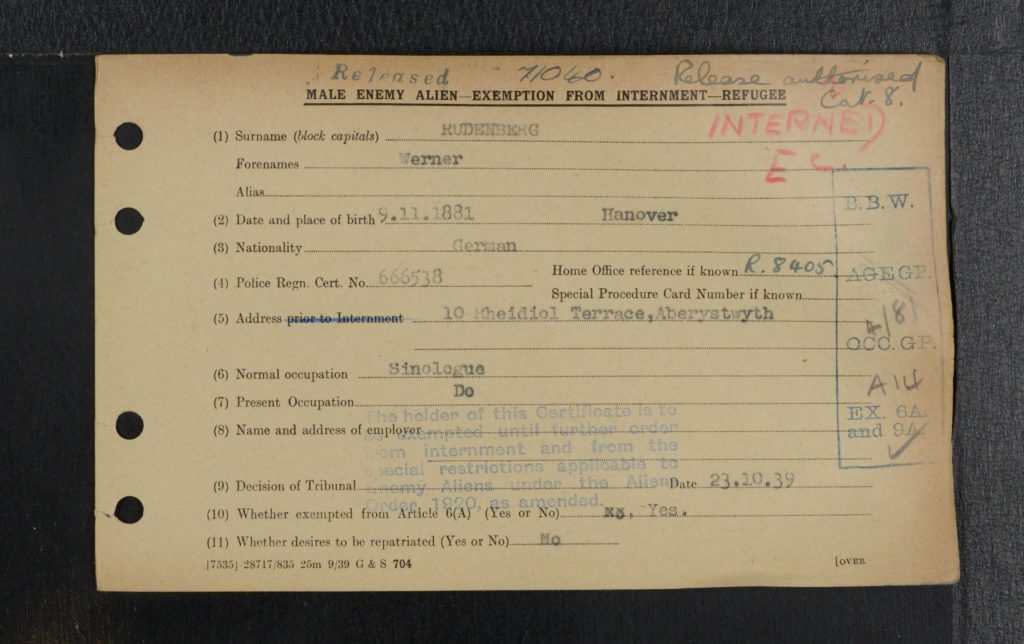 Anni once again writes to Jones for assistance, but at the same time, she seems to have accepted the necessity of her husband's internment:
What counts for all of us is the good cause and the final victory. We have voluntarily tied together our fate with Great Britain's fate. Your hopes are our hopes, your victory is our victory, and our deepest wish is to be allowed to share some short years of peaceful life with all of you when this most terrible war has been brought to a good end.

Anni Rüdenberg to Thomas Jones, 19 May 1940
After five months, Werner is released and returns to Cambridge, where he gets a job teaching German to officers training for the British Army (Fritz Pincus is only released in March 1941). Anni works as a typist at the university, even typing for the well-known philosopher Ludwig Wittgenstein. After the war, the couple return to "dear old Aber" on holiday "to see the old places and faces again", and still keep in touch with the Owen family, their landlords "for nine happy months in 1939, – happy, that is to say, with the exception of the four days' internment in H.M. Prison at Swansea". Eventually, Werner obtains British citizenship, and secures a teaching post at Queen Mary University in London. He dies in 1961, while Anni survives until the age of 103, dying in 1989.
The story of the Rüdenbergs highlights the precarity of refugees' lives in Wales once they had escaped from Nazi tyranny. It also emphasises the importance of actions by individuals like Thomas Jones in securing status for refugees, despite official government policy towards asylum. Ordinary people were often hospitable, as shown by Werner's fond memories of Aberystwyth during his short time there. Nevertheless, most European Jews who wanted to escape the Third Reich during the 1930s were unsuccessful, and were subsequently murdered during the Holocaust. Those recorded in the Memo Book of the Cardiganshire Police were some of the lucky ones, even if their treatment by the authorities sometimes left much to be desired.
NB. This blog was written as part of the Aberystwyth at War project, with the help of Conor Brockbank. The original blog can be found on the project website.
Sources:
Ellis, E.L., T.J.: A Life of Dr Thomas Jones, CH (Cardiff: University of Wales Press, 1992)
'First Chinese-German Dictionary', EVS Global Translations & Business Services, 24 January 2017 (https://evs-translations.com/blog/chinese-german/) (Accessed 13 April 2022)
Fritz Pincus Release Confirmation, 1941 (The National Archives; HO 396/271)
'Obituary: H. Gunther Rudenberg', Portland Press Herald, 18 January 2009 (https://www.legacy.com/us/obituaries/mainetoday-pressherald/name/h-rudenberg-obituary?id=24519648) (Accessed 13 April 2022)
Pistol, Rachel, Internment during the Second World War: A Comparative Study of Great Britain and the USA (Bloomsbury, 2017)
Police Memo Book 'Aliens' Photographs' (Ceredigion Archives, MUS/204)
Thomas Jones CH Papers (National Library of Wales; WW25; General Correspondence R; 68-77)
Thomas Jones CH Papers (National Library of Wales; M2; Refugees, von Metzradt-Sonnenfeld; 25-276)
Werner Rüdenberg Internment Exemption Certificate, 1940 (The National Archives; HO 396/193)