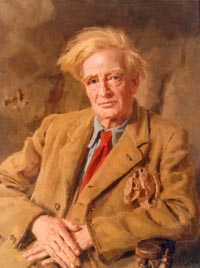 The first Director of the Welsh Plant Breeding Station (1919) and the founder of the Grassland Research Institute, Sir George Stapledon's contribution to grassland science has been recognised internationally. Sir George Stapledon had a profound impact on grassland research and practise in Britain and throughout the world in the mid part of the 20th Century.
An agricultural pioneer he set about breeding grasses, clovers and oats for the benefit of Welsh farmers, developing new breeding methods and testing new varieties. He believed in the strict principle of directing research towards a solution of general problems rather than the advancement of one specialism. A visionary, he saw the importance of good working relationships and set up the Cahn Hill Improvement Scheme (Pwllpeiran) to enhance the productivity of the hills to increase the profitability of land improvement.
Seminars are periodically hosted by the IBERS Stapledon Society.
For more details about the history behind George Stapledon see the Stapledon Archives.
"…whosoever could make two ears of corn or two blades of grass to grow upon a spot of ground where only one grew before, would deserve better of mankind, and do more essential service to his country than the whole race of politicians put together."

Jonathan Swift (1667-1745)