The Stapledon Centre is focused around pasture-based agriculture and we have strengthened applications to BBSRC for strategic program funding in this area. We have also leveraged the funding from BBSRC to widen the debate concerning pasture-based agriculture, the science possible, the environmental effects and the societal consequences in both urban and rural communities. This has been achieved by encouraging collaboration between agricultural, environmental and social scientists in Aberystwyth and beyond.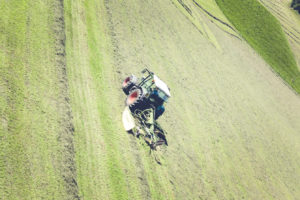 In doing so, we are providing a unique point of differentiation for Aberystwyth University that is closely aligned with the developing priorities within RCUK, Horizon 2020 and the Global Challenges Research Fund. The Stapledon Centre will drive both funding and interdisciplinary research within the university.
The Stapledon Centre aims to continue working towards Sir George Stapledon's vision to improve grasses for upland farming and farming in general and to increase productivity to feed the nation.
The Stapledon Memorial Trust was established in 1962 as a tribute to the late Sir George Stapledon, which provides awards to both individuals and organisations on all aspects of grassland use: https://stapledontrust.com/.